Moxa Announces HSR/PRP Redbox with Flexibilis FRS Core
In cooperation with Altera and Flexibilis, Moxa will demonstrate the latest redundancy technology for substation automation and other mission-critical applications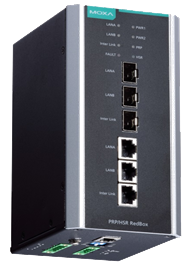 Taipei, Taiwan, May 16, 2013—Moxa, a leading provider of industrial Ethernet solutions, will showcase the latest redundancy technology with the industry's first integrated Parallel Redundancy Protocol (PRP) and High-availability Seamless Redundancy (HSR) Redundancy Box (RedBox) in Flexibilis' booth at IEC 61850 Europe 2013. In addition, Moxa will offer qualified customers an opportunity to participate in an upcoming Alpha Testing Program to conduct a real-world application assessment of the integrated PRP/HSR RedBox.
In cooperation with Altera and Flexibilis Oy, Moxa is pleased to unveil its PRP/HSR RedBox, the newest PowerTrans redundancy solution designed for power substation automation. Moxa's PRP/HSR RedBox solution complies with both IEC 62439-3 Clause 4 (PRP) and Clause 5 (HSR); provides hardware-based IEEE 1588v2 Precision Time Protocol (PTP) under end-to-end one-step transparent clock mode, and comes with three 100/1000BaseT(X) and 100/1000BaseSFP slot combo ports. Moxa's PRP/HSR RedBox is the ideal networking solution for mission-critical applications, such as substation automation and process automation, where zero recovery time and precise timing accuracy are required.
As a leading industrial networking provider with more than 25 years of experience in automation, Moxa offers a comprehensive portfolio of industrial Ethernet solutions. With the latest technologies designed specifically for substation automation networking, such as an integrated PRP/HSR RedBox, Noise GuardTM for zero-packet-loss EMC immunity, built-in MMS Server, and fiber DDM, Moxa offers industry-leading solutions to ensure maximum substation network availability and reliability.
For inquiries regarding the PRP/HSR RedBox Alpha Testing Program, please contact Jack Lin (product manager) at Jack.Lin@moxa.com.
To learn more about Moxa's power substation automation solutions, please visit: www.moxa.com/solutions/substation
About Moxa: Your Trusted Partner in Automation
Moxa is a leading manufacturer of industrial networking, computing, and automation solutions. With over 25 years of industry experience, Moxa has connected more than 30 million devices worldwide and has a distribution and service network that reaches customers in more than 70 countries. Moxa delivers lasting business value by empowering industry with reliable networks and sincere service for automation systems. Information about Moxa's solutions is available at www.moxa.com. You may also contact Moxa by email at info@moxa.com.
About Flexibilis
Flexibilis focuses on critical communication and develops precise, reliable, and secure solutions based on FPGA technology. The main business is licensing of intellectual property (IP) cores for device manufacturers. Flexibilis is the leading provider of redundant Ethernet solutions. The most important product is theFlexibilis Redundant Switch (FRS), an IP core with HSR/PRP, 1Gbps speed and up to 8-port configuration. More information on www.flexibilis.com.
Please see the press release as pdf.