SpeedChips XRS7000 Series
Single chip HSR & PRP switch
XRS7000 series switches are integrated circuits (ICs) with which you can add HSR, PRP and time synchronization functionality to your device. This chip series is the first off-the-shelf HSR/PRP Ethernet chip in the market and is part of Arrow Electronics' SpeedChips product family.
XRS7000 series switches offer availability and reliability for Ethernet networks and can be used for example in industrial automation, motion control, substation automation, vehicle communication and networking equipment. HSR and PRP are standardized redundancy protocols for Ethernet providing zero-loss redundancy with no single point of failure.
Read more about the protocols:
What is High-availability Seamless Redundancy (HSR)?
What is Parallel Redundancy Protocol (PRP)?
What is Precision Time Protocol (PTP)?
XRS7000 Devices as well as Reference Boards are available for purchase on Arrow site:
XRS7004E Reference board
XRS7004E chip
XRS7004F chip
XRS7003E chip
XRS7003F chip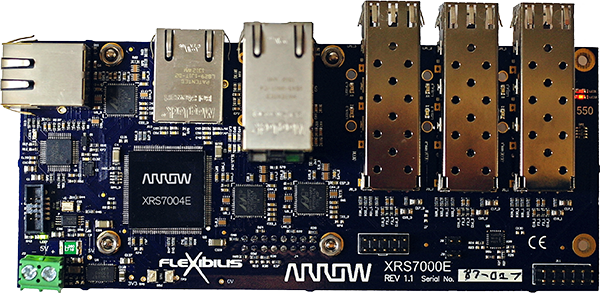 Features: XRS7003 & XRS7004
There are two different XRS7000 versions available: XRS7003 (three ports) and XRS7004 (four ports). XRS7003 can be employed in HSR and PRP end nodes and XRS7004 in both end nodes and HSR and PRP RedBoxes. A QuadBox can be built using two XRS7004 devices.
Compatible with High-availability Seamless Redundancy (HSR)
Compatible with Parallel Redundancy Protocol (PRP)
Two (XRS7003) or three (XRS7004) 10/100/1000 Mbit/s RGMII ports
Time and frequency synchronization using IEEE1588-2008 Precision Time Protocol v2
I2C and MDIO for register access
Cut-through and store-and-forward operation
Quality of Services (QoS) with priority tagging, packet filtering and four priority queues per port
Port-based VLAN and VLAN tagging
PPS (Pulse per Second) input and output
Support for MAC address based authenticating methods
RMON statistics counters
Two industrial range packages available: 144-Pin Plastic Enhanced Quad Flat Pack (EQFP) and 256-Pin Fine Line Ball Grid Array (FBGA)
In the picture you can see HSR/PRP RedBox built using XRS7004:

Downloads